Noida to Amritsar Tempo Traveller In Noida
Hire Tempo Traveller in Noida at an affordable price. Hurry Up!
Travel from Noida to Amritsar tempo traveller in Noida
A very far from the crowd, amidst lush green farmlands, dwelt in the fragrant essence of loving breeze coming from sonhi mitti di khushbu… There is a place which welcomes you in the most presentable and promising way between the songs of bhangra… Lassi da swaad gives you another entice and yes! Sarso da saag, makki di roti with chhans… oh yeah, butter paneer recipes and Parathas with spread butter and shudh desi ghee, is all what we want and such cuisines are that you're never gonna miss out on. 
The garlands of joy, bhangre nu pane di chah, and wakhra swag inside your pocket is what you need to have a trip of happiness. And! And! And! This can all be yours, with only just a click… not joking haan! Sachchi…
And whosoever on this earth doesn't want to listen to Punjabi songs, have Punjabi food on the plate, to wear Punjabi suits and juttis at least once in his or her lifetime? 
Punjab is such a city which offers you the most vibrant and delicate taste of multiple Punjabi and regional cuisines. Also being the northern state of India, it is the pristine city of several world renowned Gurudwaras. 
The world famous Golden temple of Harmandir sahib ji is surrounded by a holy Amrit sarovar tank where pilgrims take a bath in. It's the most beautiful and exquisite area of the temple complex which makes Punjab mostly the reverential city for the Sikh community, especially. 
The diversified attractions of historical, traditional and Punjabi cultural touch is something very special in its air, which appeals to you to feel pride within the place itself. 
Gurudwara da langar and kadah prasad will make you enticed and you'll crave for the rest, let me write this in the corner somewhere! The luxurious and breathtaking glimpse of the city is not the only thing which you can come across, its religious importance has also been engraved with golden letters in the history itself.
But before planning a trip to Punjab, the most visited and favourite city of tourists and most loved city amongst ecotourists and visitors from overseas, we are here to table up some important places and activities to do in there. With a luxurious ride and rental guidance of Mandal tempo traveller you can comfortably go beyond your limits of expenses without being worried about your budget. Soooo…..hurray!! Let's make a trip together… we are going, have you done with your packings too?
Ways to travel from Noida to Punjab
The bustling city of Noida, situated in the northern Indian state of Uttar Pradesh, offers seamless travel connectivity to the charming state of Punjab. With multiple travel options available such as trains, buses, taxis and private cars, you can choose the best mode to suit your budget, time constraints and preferences. 
Train journeys are a top-notch way to explore different cities in Punjab, boasting of comfortable seating options and linking Noida to major destinations such as Ludhiana, Amritsar and Jalandhar. 
If you are someone who enjoys travelling by road, buses are a great alternative. From ordinary to air-conditioned and luxurious Volvo buses, you can pick the one that fits your travel needs. 
Alternatively, hiring a private taxi or car gives you the flexibility of deciding your own itinerary and making stops along the way. 
On the whole, deciding on what mode of transport to pick can be a challenging task, given the myriad of options available, but with a clear understanding of your preferences, it can be easily narrowed down to make travel to Punjab a memorable experience.
Where can you go on a trip to Punjab
Golden temple

Jallianwala Bagh

Wagah border

Sri Durgiana temple

Partition museum

Akal Takht

Mata Lal Devi temple

Gobindgarh fort

Gurudwara Bir Baba Buddha

Maharaja Ranjit Singh museum

Sadda pind

Chand Baori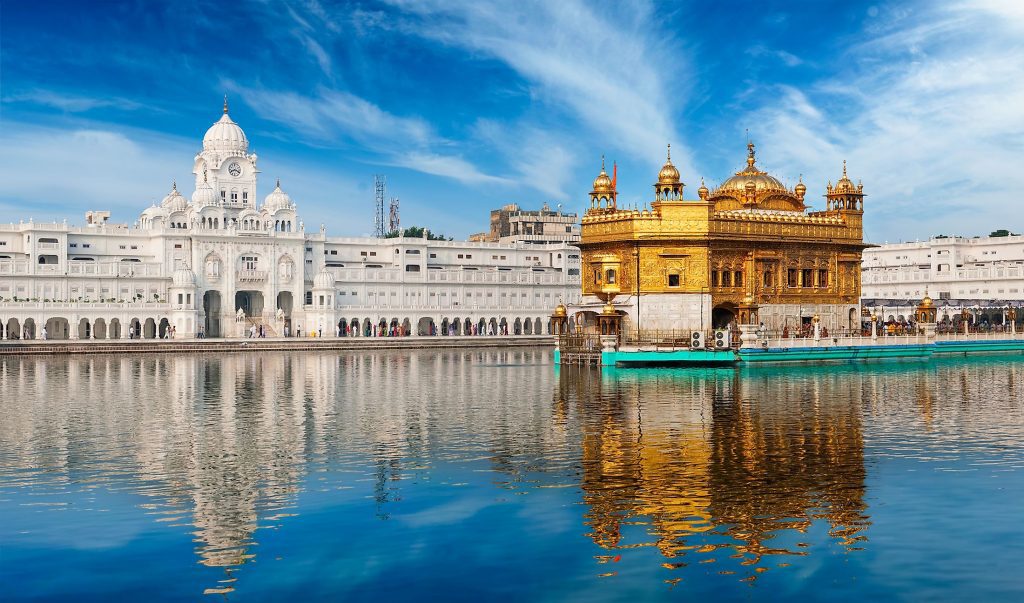 What you cannot miss out in Punjab:-
Shopping in local markets or specific shops like Punjabi suits, kurtas, chappals, Amritsari juttis, earrings, accessories, kada, phulkari clothes, jhumke, wooden souvenirs, and so on….

Enjoy feasting on your favorite cuisine from Punjab with a taste of tandoor, Amritsari kulche, a variety of paratha, lassi, rabri with gulab jamun and lip smacking masala mix fusion with paneer or chicken and so on… And yes, don't forget that old recipe of makki di roti with sarson da saag and chhans…

Have a sight on the historical sites like Jallianwala Bagh

Start your day between posing for the best clicks of your lifetime in those lush green Sarson ke khet…

You can also become a guest in village houses amidst locals, just in case you want to know the reason for their happiness and prosperity.
Why book tempo traveller in Noida with Mandal tempo traveller?
We know the cab booking idea has become so common and easy these days. But with Mandal tempo traveller, you get the luxurious tempo traveller on rent in Noida more than easier that too at cheaper prices.

 

You name the facilities you want inside the cab or tempo, we will make that happen at just one click.

 

Seeing the strike on safety of your health, we come under safety guidelines provided by the administration. We provide you with a clean and sanitised cab/ tempo ranging from 2 seater to more than 30 seater, as per your convenience.

 

We have experienced and well-trained, well-behaved happy drivers with whom you can feel safe hands to go with.

 

You can experience our live vehicle tracking also, through which you are assured of your destination.

 

Mandal traveller provides you the fastest and secure services all along the way.

 

We have 24/7 customer support services, through which you can hook on to us.

 

We offer you the best method of payment where you can easily book us. You can use your credit card, wallet or mobile banking, net banking or debit card payment with these hassle-free options to make our returns happy. Book tempo traveller in Noida.

What does Mandal tempo traveller offer?
Safe and clean rides- We assure cleanliness and tidily maintained tempo ride to you. Your hygiene matters first for us.


Cost-effective bookings- more than making money from you, we want to make our business more reliable to you. We build coherent relationships with our customers where they can enjoy additional rides on a long trip.



Accurate counts of each buck- We charge you nothing at stake- we don't sum up any hidden charges on your ride, we show what makes you believe in us, that is we will never make you feel agitated.

Safe hand driving- we guarantee that you'll enjoy making your trip a laughing experience at last. Our drivers are so gentle and caring that they assure you a smooth and safe and well behaved drive throughout the whole trip. We can definitely assure you the best tempo traveller services in hand in the market.


Expertise is what makes us superficial- we have been in this long run industry for years, hence we can promise our best services will only reach you. We clearly imprint your requirements and make your trip planned accordingly.



You can order what you dream- you can hire the rental tempo services as per your need, we are always ready to pick you up without sliding your feet an inch out of the house. Name it as- luxury ride with Mandal tempo traveller or a cost effect.
How to book a tempo traveller in Noida with Mandal tempo traveller?
-Booking with a Mandal tempo traveller is a cakewalk, even if you ask your toddler to do so. Haha! 

Step-1:- check us out @ http://mandaltempotraveller.in/




Step-2:- Go with the related itineraries of your choices, and click on the article given.




Step-3:- click on the "book now"  button and fill up the details under which you're going to book our services




Step-4:- submit all your answers and we are ready in just a four step process. 




Note:- enter the accurate address details of pickup, as we don't want to make you very irritated by letting you wait outside the roofs. Your values matter for us, hope you adjoin the same. 
Tempo Traveller On Rent in Noida Per Km Price
Please Note
If you are returning on the same day then we will give you the best possible discount.
Minimum Limit per day 250 KM
Driver Allowance – Rs.300/Day
The charges will be applicable garage to garage
Toll and parking extra
UP state is tax-Free (Another state will be applicable)
if you are choosing our service for only dropping then we will give you a more discounted price.
Hire Tempo Traveller for your next trip