Noida to Jim Corbett Tempo Traveller In Noida
Book our luxurious Tempo Traveller service from Noida to Jim Corbett for a safe and comfortable journey with experienced drivers and modern amenities. Customize your package and enjoy the scenic route with fully air-conditioned interiors, ample legroom, and spacious seats. Don't miss out on an unforgettable trip to one of India's most beautiful destinations – book your Tempo Traveller now!
Nature is something which relishes your mood, lightens up your cosy comfort from within and heals you unconditionally. And if someone gives you an offer to visit Jim Corbett National park, how can you stay back in your place?
BUT, BUT, BUT!!!
Yes, we do understand your toil to move an inch in such dramatic weather, which somehow stops you from going out.
We are here, to let you be an idol of choices. With us, Mandal tempo travellers, you can relish the joy of nature in the lap of lush green natural sceneries surrounded by the beautiful mountains from each corner.
Book tempo traveller in Noida.
Travel from Noida to Jim Corbett tempo traveller in Noida
Located in the serenity of Uttarakhand amidst dense forests on the Ramganga reservoir, this is what makes Jim Corbett a place to be visited at least once in your lifetime. Jim Corbett is the most considered and oldest National park with the highest number of tigers. And the spellbound beauty of Jim Corbett National park is such a mystic that it has an abundance of flora and fauna in its lap. The forest's name is spelled famously for its royal Bengal tigers, striped leopards, wild elephants, Asiatic black bears, Indian hog deers, hundreds of bird species and many more. 
The most candid and spectacular range of Jim Corbett is- Birjani zone (famously known for its royal Bengal tiger watching), Dhikala zone (known for its natural view with waterfalls)
And the first and foremost thing is what you cannot miss here, the Jungle Safari ! This place has hearts of jungle safari lovers, and if you're one of them- then, yes! We will make it possible and easy for you. 
Beyond jungle safari, we've here enlisted some more fun/adventure activities which will definitely make your holidays/vacations memorable forever. Let's plan a trip together !!
Ways to travel from Noida to Jim Corbett
There are several ways to travel from Noida to Jim Corbett:
1. By road: You can hire a taxi or take a bus from Noida to Jim Corbett.
2. By train: Take a train from Noida to Ramnagar and then hire a taxi or take a bus to Jim Corbett.
3. By air: The nearest airport to Jim Corbett is the Pantnagar Airport. Take a flight from Delhi to Pantnagar and then hire a taxi or take a bus to Jim Corbett.
4. By private car: You can also drive from Noida to Jim Corbett. The route is Noida-Ghaziabad-Meerut-Muradabad-Ramnagar-Jim Corbett and the total distance is around 250 km. You may book tempo traveller on rent Noida.
Types of Safari(s) Jim Corbett has to offer you
Elephant safari on a ride

Canter safari

Jeep Safari through the Dhikala zone among Bengal tigers, Asian elephants, chital, crocodiles, reptiles as cobra, deers etc

Birjani zone for animal spotting and bird watching

Durga Devi zone where a number of avifauna species like grey headed eagle, black chinned yuhina, marron orioles and many other highly endangered bird species are found

Sitabani buffer zone which has to offer a significant and tranquillising ambience

Nature photography and many more.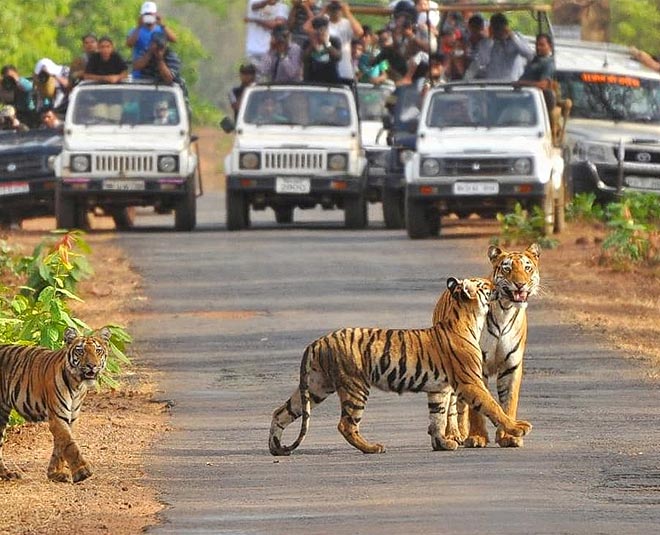 What you cannot miss in the Jim Corbett:-
Bird watching in Pangot

Kosi river rafting

Fishing in Kosi

Picnic near Jim Corbett falls and angling

Wide range of safari experiences

Night stay at Dhikala forest rest house. Camping in the middle of heart throbbing lush green forests will excite you to experience solace and thunder from within

Wildlife art gallery visit

Mountain biking for glimpse of rich wildlife experience

Rock climbing and rappelling, whether it's a bit difficult yet adventurous experience which comes under your choice

Resort stays and so on.
Why book tempo traveller in Noida with Mandal tempo traveller?
We know the cab booking idea has become so common and easy these days. But with Mandal tempo traveller, you get the luxurious tempo traveller on rent in Noida more than easier that too at cheaper prices.

 

You name the facilities you want inside the cab or tempo, we will make that happen at just one click.

 

Seeing the strike on safety of your health, we come under safety guidelines provided by the administration. We provide you with a clean and sanitised cab/ tempo ranging from 2 seater to more than 30 seater, as per your convenience.

 

We have experienced and well-trained, well-behaved happy drivers with whom you can feel safe hands to go with.

 

You can experience our live vehicle tracking also, through which you are assured of your destination.

 

Mandal traveller provides you the fastest and secure services all along the way.

 

We have 24/7 customer support services, through which you can hook on to us.

 

We offer you the best method of payment where you can easily book us. You can use your credit card, wallet or mobile banking, net banking or debit card payment with these hassle-free options to make our returns happy. 
What does Mandal tempo traveller offer?
Safe and clean rides- We assure cleanliness and tidily maintained tempo ride to you. Your hygiene matters first for us.


Cost-effective bookings- more than making money from you, we want to make our business more reliable to you. We build coherent relationships with our customers where they can enjoy additional rides on a long trip.



Accurate counts of each buck- We charge you nothing at stake- we don't sum up any hidden charges on your ride, we show what makes you believe in us, that is we will never make you feel agitated.

Safe hand driving- we guarantee that you'll enjoy making your trip a laughing experience at last. Our drivers are so gentle and caring that they assure you a smooth and safe and well behaved drive throughout the whole trip. We can definitely assure you the best tempo traveller services in hand in the market.


Expertise is what makes us superficial- we have been in this long run industry for years, hence we can promise our best services will only reach you. We clearly imprint your requirements and make your trip planned accordingly.



You can order what you dream- you can hire the rental tempo services as per your need, we are always ready to pick you up without sliding your feet an inch out of the house. Name it as- luxury ride with Mandal tempo traveller or a cost effect.
How to book a tempo traveller in Noida with Mandal tempo traveller?
-Booking with a Mandal tempo traveller is a cakewalk, even if you ask your toddler to do so. Haha! 

Step-1:- check us out @ http://mandaltempotraveller.in/




Step-2:- Go with the related itineraries of your choices, and click on the article given.




Step-3:- click on the "book now"  button and fill up the details under which you're going to book our services




Step-4:- submit all your answers and we are ready in just a four step process. 




Note:- enter the accurate address details of pickup, as we don't want to make you very irritated by letting you wait outside the roofs. Your values matter for us, hope you adjoin the same. 
Tempo Traveller On Rent Per Km Price Noida
Please Note
If you are returning on the same day then we will give you the best possible discount.
Minimum Limit per day 250 KM
Driver Allowance – Rs.300/Day
The charges will be applicable garage to garage
Toll and parking extra
UP state is tax-Free (Another state will be applicable)
if you are choosing our service for only dropping then we will give you a more discounted price.