Noida to Mussorie Tempo Traveller
Need a comfortable and hassle-free ride from Noida to Mussorie? Look no further! Our Tempo Traveller service offers ample space for all passengers to stretch out and relax, with experienced drivers ensuring a safe and timely journey. Perfect for solo, family, or group travel, book your ride today and enjoy the scenic views in comfort and style!
Travel from Noida to Mussorie with Mandal tempo Traveller in Noida
Hello Hello! If you don't mind, here we give you an idea that says- "when we leave a beautiful place, we carry it with us wherever we go". Could you also find a place where you can come to relive your dreams and get lost in its pleasing comfort?
If it's not your task to go with, let's join us to plan a round trip to the one and only Mussoorie. This city is also known as 'Queen of the hills as being surrounded by mountains and lush green natural sceneries.
Mussoorie is one of the most visited and popular hill stations of India, the weather where relishes it's serene and the breezy winds captivate the heart of its visitors. The peaceful and ambient vibes of Doon and the Shivalik ranges and the Himalayan ranges from either side make it a nature lover's hotspot.
Famous for being not just a tranquil City but also it's one of the most thrilling and adventurous Cities in the country.
The other major attractions of Mussoorie include the famous and well-renowned institution, LBSNAA- the civil servants' official training academy which glorifies the pride of Indian governance. The province of this city can pump your vessels up if you're planning a trip to Mussoorie. Being one of the most important honeymooning destinations for newlyweds, a hotspot for picnic lovers, nature and wildlife lover buddies, or so and so, Mussoorie can give you goosebumps with just a visit.
So what are you waiting for? Let us make an envelope of your happiness before reaching out to the ultimate location of Uttarakhand, which is Mussoorie which is also our personal favourite destination. And what if we say, that Mandal tempo traveller is offering you its best deals with 'traveller on rent at your doorsteps? Book tempo traveller in Noida.
Places you can explore with joy in Mussorie:-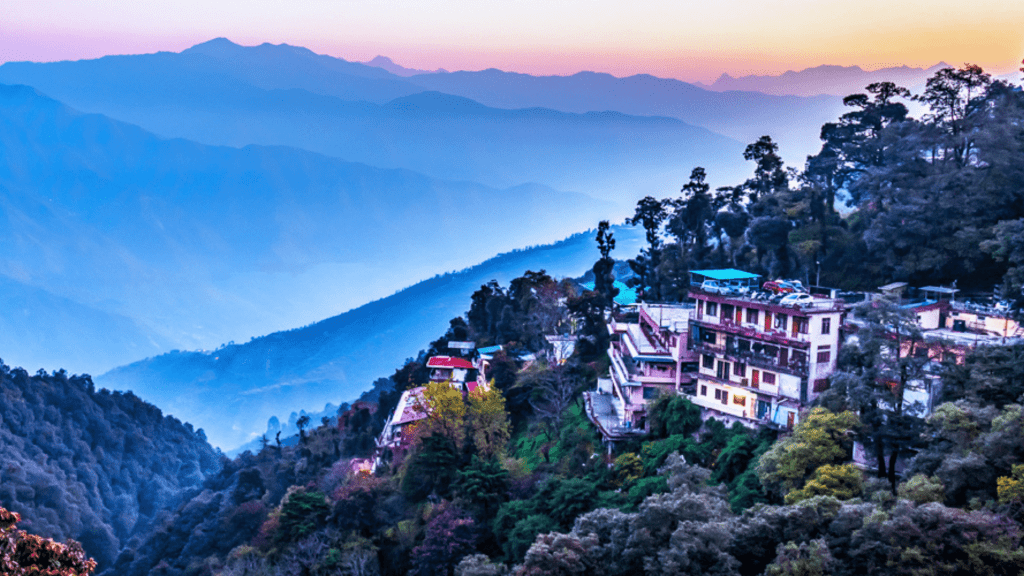 Kempty falls for a visit purpose of picnics and spring bathing

Lal tibba trek, if you're a person who loves to see sunrise and sunset

Gun hill viewpoint for an eagle view of 360 degrees town view experience

Cloud's end or the geographical end of this serene landscape town, from where you can have the perfect insta shots 

Jwala Devi temple visit nearby cloud's end destination

Jharipani falls 

Mussoorie Lake for zip lining of water zorbing

Lake Mist for a scenic boating adventure

Snow adventure zone

The Mall road

Gucchupani

Bhatta falls for a paradise splendour
What you can not miss on a trip to Mussoorie:-
Pay a visit to Benog wildlife sanctuary for a mesmerising presence of flora and fauna

Lal tibba for an amazing Street food or local cuisine experience while trekking to the top

Plan a trek at Hathipaon through the nature trails

Paragliding

A ropeway ride to the Gun Hillpoint 

Take a break for that thrilling experience of sky riding at adventure camps

White water rafting with your caddie buddies

Snacks and regional multi cuisines at famous outlets along Mall road

Gorge on a few of the local delicacies and shop for some souvenirs at the local markets on Mall road

Have a splendor visit to the SOHAM heritage and art center

Photography adventures with your loved ones or solo pics to get tagged with a hashtag of a fun trip.
Why book tempo traveller with Mandal tempo traveller?
We know the cab booking idea has become so common and easy these days. But with Mandal tempo traveller, you get the luxurious cab service more than easier that too at cheaper prices. 


You name the facilities you want inside the cab or tempo, we will make that happen at just one click.


Seeing the strike on safety of your health, we come under safety guidelines provided by the administration. We provide you with a clean and sanitised cab/ tempo ranging from 2 seater to more than 30 seater, as per your convenience.


We have experienced and well-trained, well-behaved happy drivers with whom you can feel safe hands to go with.


You can experience our live vehicle tracking also, through which you are assured of your destination. 


Mandal traveller provides you the fastest and secure services all along the way. 


We have 24/7 customer support services, through which you can hook on to us.



We offer you the best method of payment where you can easily book us. You can use your credit card, wallet or mobile banking, net banking or debit card payment with these hassle-free options to make our returns happy. 
What does Mandal tempo traveller offer?
Safe and clean rides- We assure cleanliness and tidily maintained tempo ride to you. Your hygiene matters first for us.

 

Cost-effective bookings- more than making money from you, we want to make our business more reliable to you. We build coherent relationships with our customers where they can enjoy additional rides on a long trip.

 

Accurate counts of each buck- We charge you nothing at stake- we don't sum up any hidden charges on your ride, we show what makes you believe in us, that is we will never make you feel agitated.

Safe hand driving- we guarantee that you'll enjoy making your trip a laughing experience at last. Our drivers are so gentle and caring that they assure you a smooth and safe and well behaved drive throughout the whole trip. We can definitely assure you the best tempo traveller on rent Noida services in hand in the market.

 

Expertise is what makes us superficial- we have been in this long run industry for years, hence we can promise our best services will only reach you. We clearly imprint your requirements and make your trip planned accordingly.

 

You can order what you dream- you can hire the rental tempo services as per your need, we are always ready to pick you up without sliding your feet an inch out of the house. Name it as- luxury ride with Mandal tempo traveller or a cost effect.
How to book a tempo traveller with Mandal tempo traveller?
-Booking with a Mandal tempo traveller is a cakewalk, even if you ask your toddler to do so. Haha! 

Step-1:- check us out @ http://mandaltempotraveller.in/




Step-2:- Go with the related itineraries of your choices, and click on the article given.




Step-3:- click on the "book now"  button and fill up the details under which you're going to book our services




Step-4:- submit all your answers and we are ready in just a four step process. 




Note:- enter the accurate address details of pickup, as we don't want to make you very irritated by letting you wait outside the roofs. Your values matter for us, hope you adjoin the same. 
Tempo Traveller On Rent Per Km Price Noida
Please Note
If you are returning on the same day then we will give you the best possible discount.
Minimum Limit per day 250 KM
Driver Allowance – Rs.300/Day
The charges will be applicable garage to garage
Toll and parking extra
UP state tax-Free (Another state will be applicable)
if you are choosing our service for only dropping then we will give you a more discounted price.