Noida to Rajasthan Tempo Traveller
Hire Tempo Traveller in Noida to Rajasthan at an affordable price. Hurry Up!
Travel from Noida to Rajasthan with Mandal tempo Traveller in Noida
Ghammaghadi, ghammaghadi … "kesariya balam aavo Ni Padharo Mhare Desh"…This is not just some lyrics of a folk song, but also the tagline of ecotourism around Rajasthan. What else could you remember listening to the name of this city? Bhujiya from Bikaner! Rabri ghevar! Giant Maharajas thali from regional cuisine! Daal baati churma! Or maybe ghoomar ghoomar is your taste for instance! Rajasthan sets up every taste or mood with a cordial connection of your choice.
Rajasthan, is a city of valour and luxury, a place where your dreams of a royal trip can come true surely. The city of Rajasthan is considered the most colourful state of India and is one of the most popularly visited tourist destinations across the country. The magic of this royal state lies in the pictorial sand dunes, the vibrance of folk songs and regional dance with their costumes make it a feeling of elegance.
It's believed that if a place adjoins your heart it becomes an emotion to you, Rajasthan has such ecstasy to admire. As the city houses 14 forts of national, cultural and historical importance and a number of royal palaces as well. One among them is famously known as Umaid Bhavan which is the most elegant and sophisticated architecture around Rajasthan. Chittorgarh fort has also a specific verge of being the largest fort of all time. These bright colossal palaces and majestic forts are popular for their spellbinding architectural structure and beautiful carvings of ancient or mediaeval art forms, where the glory of these heritage sites is a splendour to definitely crave for a visit.
On the other side of your tour list, the city is famous for its wildlife sanctuaries and National parks, where you can sense vibrance and peace.
Lists of palaces starting with exotic captivity of Grandeur hotels and luxurious seven-star resorts to a plethora of traditional costumes and puppetry shows, all of these is about a centre of attractions in the world. It's also an educational hub for aspirants of different backgrounds, just in case you don't miss Kota for that matter.
The major cities of Rajasthan, where you can plan a trip are- Jaipur, Udaipur, Jodhpur, Jaisalmer, Pushkar, Bikaner, Mount Abu, so and so…
What else couldn't be appreciated much about Rajasthan!? If any, don't be so overwhelmed. Instead, join the date of this royal outing with us, Mandal tempo traveller. We can fulfil your dreams of becoming a good part of your life with ecstasy. We always come up with valuable and pocket-friendly packages for your convenience, then why leash back your luggage? Unload all your loads, for a trip towards the well-being of your loved ones with our rental tempo services. Order us, because we are just a click away from you! Hehe…!!! Book tempo traveller in Noida.
Places you can explore with joy in Rajasthan:-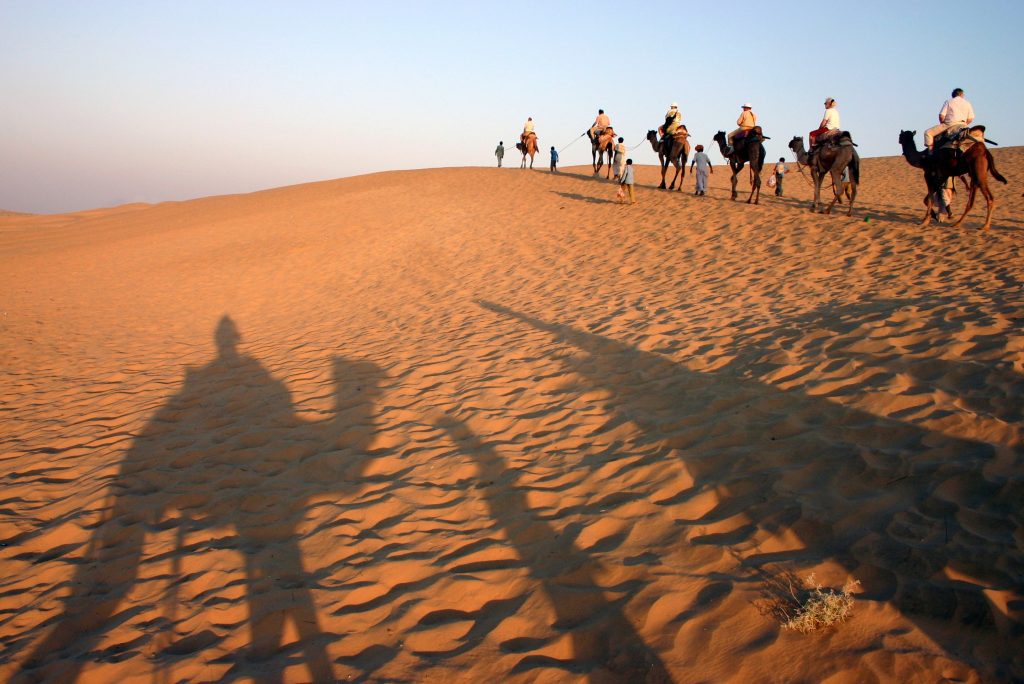 Kumbhalgarh fort for an exquisite architectural view of the great Grandeur

Bikaner camel ride/fair to give yourself a cultural retreat

Barmer, the famous marwadi place for marwari cuisine culture

kesroli

Galtaji temple

Akshardham temple is the heart-filling experience of Rajasthan where you can find solitude

Chand Baori

Sariska national park and Alwar's Bhangarh fort 

Bharatpur National park of Keoladeo

Eklingji temple

Kota, the inventory of making IITians and doctors….

Osian which is also called Khajuraho of Rajasthan, is the oldest settlements

Mandana, Hawa Mahal and Jantar mantar of Jaipur

City palace of Jaipur is the luxurious hotel destination

Pichola Lake City palace of Udaipur

Ranakpur

Nathdwara temple

Neem Rana fort was built in 1464 AD by Rajput maharaja Prithvi Raj Chauhan |||

Bundi is the princely state which relishes you to the classical ancient times

Chittorgarh fort famous for Padmavati story, where the valorous Queen performed self-immolation and the rest is a history

Pushkar famous for Pushkar Mela and the only famous Brahma Ji temple

Mount Abu, the famous Dilwara temple where you can feel yourself a king or Queen of medieval times

Ranthambore National park and tiger reserves

Jodhpur, the blue city where you'll see an extraordinary settlement of houses or buildings, all painted with the blue spark color of romance

Jaisalmer is famous for its sand dunes and palaces built and painted with gold texture. This is why Jaisalmer is called a Golden City.
What you should not miss to do in Rajasthan:-
Experience the unveiling of mysterious exquisite sites of Jal Mahal and Umaid Bhavan especially

Ride on luxurious trains like Maharajas and Maharani

Have multiple cuisines in the different regions of Rajasthan where you can relish your taste of Mewar, Marwar, Mewat, etc…

Participate in the local or folk dance like kalbeliya, ghoomar with your friends or locals

Puppetry shows and puppetry making is another life-long experience

Take a stay at royal palaces or a hotel where you can relish your taste of royalty

Camel safari, jungle safari

Tiger watching at tiger reserves

Sand Dunes bashing in the desert of Jaisalmer

Shopping spree around the local markets, purchase souvenirs like Rajasthani jutti, bandhani fabrics, Rajputana style jewelry, etc for a Queen alike look

Rejuvenate yourself to experience a signature sightseeing

You can also embark on pilgrimage sites or places of religious importance

Hot air ballooning, paragliding, etc

Night camping around the deserts of Rajasthan or living with locals there to know the cultural details really well.
Why book tempo traveller with Mandal tempo traveller?
We know the cab booking idea has become so common and easy these days. But with Mandal tempo traveller, you get the luxurious cab service more than easier that too at cheaper prices. 


You name the facilities you want inside the cab or tempo, we will make that happen at just one click.


Seeing the strike on safety of your health, we come under safety guidelines provided by the administration. We provide you with a clean and sanitised cab/ tempo ranging from 2 seater to more than 30 seater, as per your convenience.


We have experienced and well-trained, well-behaved happy drivers with whom you can feel safe hands to go with.


You can experience our live vehicle tracking also, through which you are assured of your destination. 


Mandal traveller provides you the fastest and secure services all along the way. 


We have 24/7 customer support services, through which you can hook on to us.



We offer you the best method of payment where you can easily book us. You can use your credit card, wallet or mobile banking, net banking or debit card payment with these hassle-free options to make our returns happy. 
What does Mandal tempo traveller offer?
Safe and clean rides- We assure cleanliness and tidily maintained tempo ride to you. Your hygiene matters first for us.


Cost-effective bookings- more than making money from you, we want to make our business more reliable to you. We build coherent relationships with our customers where they can enjoy additional rides on a long trip.



Accurate counts of each buck- We charge you nothing at stake- we don't sum up any hidden charges on your ride, we show what makes you believe in us, that is we will never make you feel agitated.

Safe hand driving- we guarantee that you'll enjoy making your trip a laughing experience at last. Our drivers are so gentle and caring that they assure you a smooth and safe and well behaved drive throughout the whole trip. We can definitely assure you the best tempo traveller services in hand in the market.


Expertise is what makes us superficial- we have been in this long run industry for years, hence we can promise our best services will only reach you. We clearly imprint your requirements and make your trip planned accordingly.



You can order what you dream- you can hire the rental tempo services as per your need, we are always ready to pick you up without sliding your feet an inch out of the house. Name it as- luxury ride with Mandal tempo traveller or a cost effect.
How to book a tempo traveller with Mandal tempo traveller?
-Booking with a Mandal tempo traveller is a cakewalk, even if you ask your toddler to do so. Haha! 

Step-1:- check us out @ http://mandaltempotraveller.in/




Step-2:- Go with the related itineraries of your choices, and click on the article given.




Step-3:- click on the "book now"  button and fill up the details under which you're going to book our services




Step-4:- submit all your answers and we are ready in just a four step process. 




Note:- enter the accurate address details of pickup, as we don't want to make you very irritated by letting you wait outside the roofs. Your values matter for us, hope you adjoin the same. 
Tempo Traveller On Rent Per Km Price Noida
Please Note
If you are returning on the same day then we will give you the best possible discount.
Minimum Limit per day 250 KM
Driver Allowance – Rs.300/Day
The charges will be applicable garage to garage
Toll and parking extra
UP state is tax-Free (Another state will be applicable)
if you are choosing our service for only dropping then we will give you a more discounted price.
Hire Tempo Traveller for your next trip