Hiring a tempo traveller in Noida can be as backbreaking as travelling itself. But, on the other hand, hiring a tempo traveller can be convenient and efficient for the people concerned. Opting for and hiring a tempo traveller can be a perfect choice, as it becomes a really hassle-free way to carry a large number of people to the desired place.
A tempo traveller can be described as a big van which makes commuting easy for a larger group of people without resisting their comfort. It is a type of multi-utility vehicle that can comfortably seat up to nine people as well as have enough cargo space for luggage and other items.
When looking for the best 16-seater tempo traveller for outstation trips from Noida/Greater Noida, I recommend using Mandal tempo travellers. They have a large selection of vehicles available to accommodate any size group, from small personal vehicles to large buses. They make sure to provide safety, comfort, and reliable of vehicles.
They always keeps an eye on quality check of their vehicles, along the insurance of their vehicle , and hires well-trained and experienced drivers.
Plus, Mandal Tempo Travellers provides excellent customer service, making sure that all customers are fully satisfied with their service.
What to Look for in a Reliable Tempo Traveller Rental Company
Reputation: Check reviews of previous clients and how they responded to their services.
Convoy: Check their size of fleet. A bigger fleet size shows that company can get you vehicle whenever you need it.
Condition of Vehicle: Vehicle should be clean and taken care of. All the facilities should be working.
Insurance: Insurance is must to meet the expenses in case of any accident.
Experienced Driver: Driver should have a clean positive record in driving and must be experienced.
Customer Service: Customer Service should be supportive and cooperating enough to resolve the issues.
How to Plan an Amazing Family Trip with a Tempo Traveller
Select a destination: Decide where you want to go. Decide if you want to visit a urban City for enjoy being a city dwellers or you want to witness some breathtaking panoramic Vistas.
Choose a reputative rental company: Select a rental company which has good customer reviews to be your partner in vacations. You can book tempo traveller in Noida with us. Check reviews here.
Advance booking of tempo traveller: Get your vehicle booked in advance to avoid the chances of unavailability at the moment.
PLAN YOUR ITINERARY: Plan your itinerary before booking your tempo traveller. Make sure to plan in such a way that everyone enjoys the trip.
BE PLIABLE: Be flexible with dates as nothing goes on time set earlier especially when you're on excursion. It's okay with ups and down in dates while on a trip.
Also, don't forget to live those moments which you set up for yourself. ENJOY!!
How to Save Money on Tempo Traveller Rentals
Money plays a vital role in our life. It becomes our responsibility of spend responsibly. Whereas, in the other hand our need to relax out chaotic mind is also important, which can be easily done by roaming around the world and going out to explore new places.
So, here are some tips on how to save money on tempo traveller rentals by spending it wisely and using the saved money in exploring more and more destinations.
Booking your vehicle Early. Once the trip has been planned, book your tempo traveller to avoid unexpected high rise in fairs. Booking earlier can help you get a good deal.
Comparing prices. When you compare fares and charges between different rental providers, you get more cost effective option.
Renting vehicle as per requirement. If your group is small, don't book a big vehicle. Save money to spend it later.
Look for Discounts. Ask your rental provider for discounts. All consumers have a right to bargain.
Try renting for one way trip. Always rent the vehicle for single way.
Bring your own eatables. Bringing your own eatables can help you prevent spending while you're traveling.
Pack Light. Pack only essentials required while going on a trip.
Hiring tempo travellers from national chains can be costly. Try apporachinhlg Local tempo traveller Rental Providers.
Make sure you read the agreement thoroughly to avoid extra cost incurring at time time of final bill payment.
By following these tips you can cut down the cost of your tempo traveller rental and enjoy your vacation.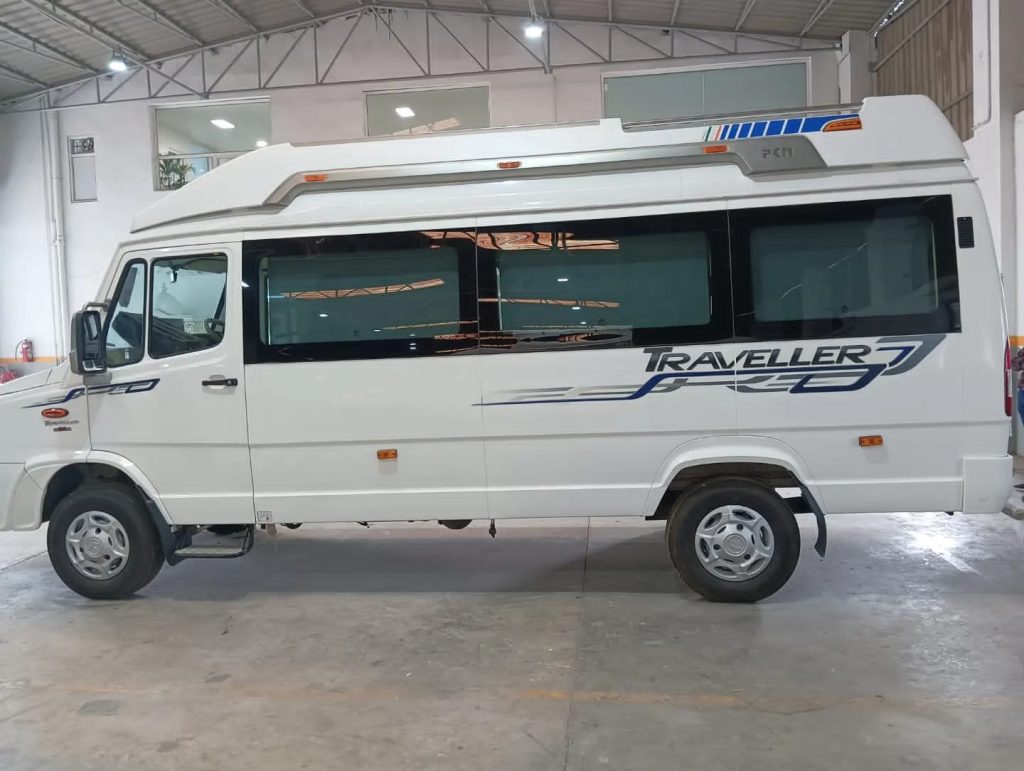 Top 5 Benefits of Renting a Tempo Traveller
COMFORT & PRIVACY
Tempo traveller rental provides both comfort and privacy when compared to other vehicles in class.
FLEXIBILITY
These vehicles can be rented for desired number of days like a week, a month or even for several months.
INEXPENSIVE
The cost of tempo traveller varies with the size of vehicle.
You can cut down the price with a smaller tempo traveller or if a big one is not required.
SAFETY
These vehicles comes with safety features like airbags and seatbelts.
First aid kit is provided in case if someone needs medical assistance.
CALMNESS
You gets relaxed when you know that the vehicle you are travelling in is totally safe and is being inspected before every trip, and also, it's affordable to your budget.
Essential Checklist for Renting a Tempo Traveller
Decide how many people are going along. Tempo travellers are available from 9 to 26 seaters. Choose appropriate size of your vehicle which is comfortable for all.
Get you tempo traveller booked in advance.
Advance booking can prevent you from last minute change in your trips. During peak time, it can be hard to get a rental.
Check driver's qualification. Check if the driver is insured or not. Driver should have a valid license.
Look over your vehicle. Before starting your trip
Check whether the vehicles and others features installed are working properly.
Rental Agreement. Make sure you read the renatal agreement to minute details and prevent any other hassels which can take place later.
Returning the tempo traveller on time.
When you return the tempo traveller on time you
Save that extra cost which can incurr.
Choosing the Right Tempo Traveller for Your Group
Choosing a right tempo traveller for your group is quiet easy. Just check how many of you want to go and select your tempo traveller accordingly. Tempo travellers comes with different seating numbers. These are available from 09 seaters to 26seaters. Just check if your vehicle has all amenities like:-
Charging Ports, Air Conditioner (Some tempo tavellers have TVs)
Check if the vehicle is clean and tidy and in good working condition.
It should have anple space to carry your luggage.
Calculate your budget and spend accordingly on your vehicle.
Your class of vehicle also depends purpose of trip. If you are going on a shorter trip, then you can go with normal tempo traveller but a long trip requires a comfortable vehicle with all amenities.
10 Tips for Choosing the Perfect Tempo Traveller Rental
Number of Seats Required. What is the requirement of your Tempo traveller seating capacity. Just count how many people will be boarding and choose the seating capacity accordingly. Tempo travellers are available from 9 to 26 seaters.
Check the price list of all rental providers. There are N number of tempo traveller service providers in the market. Get quotes from few of them to get an idea of the pricing.
Advance Reservation of your Tempo traveller. You should get it booked in advance just to ensure that there is no naysaying at the time of departure. (Especially in the peak season as they are high in demand)
Checking the condition of your Tempo traveller before boarding. Make sure your. hired vehicle is neat and clean. It has all the safety features and is well maintained.
Browsing company's policy with eyes open. Some companies don't allow drinking, smoking or taking pets along on the board. Make sure you go through the policy and rental agreement thoroughly to avoid disputes later.
Rental company's Cancellation Policy. It is always good to know what options you are provided with if you meet any unforeseen event, by any chance.
Always keep Company's contact information. In case if something goes wrong, you should always keep company's contact information.(though it rarely happens)
Carry your necessary documents. Make sure you carry all the necessary documents along with you to avoid last minute delays.
Paying advance deposit while booking Tempo traveller. Some companies charge full payment at the time of booking while some ask only half as a token amount of booking tempo traveller.
Enjoy. Last but not least, don't forget to live every moment while you travel with your people. Enjoy your journey.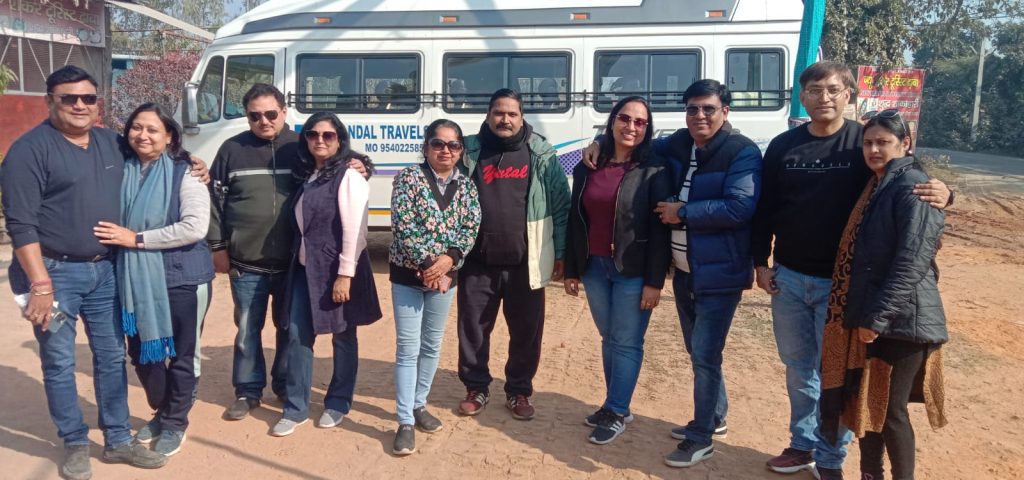 The Pros and Cons of Renting a Tempo Traveller
Pros
Cons
Comfort :This is a big factor for which a person pays huge amount to the service providers.
These big Vans not only Comes with good seating capacity, but also provides enough legroom to make the journey tireless.
Tempo travellers are equipped with features like Music Player, Charging ports and Air conditioner.
Cost : Even if the cost depends on how many people you are traveling with you, but it also depends on at what time you are travelling. Peak season can cost you quite higher.
Affordability : Tempo traveller is a cost efficient way to travel around the places, if compared to private taxis and other vehicles.
Availability : These may not be available if not booked in advance. Especially, if you want to travel in peak seasons.
Convenience : Tempo traveller are convenient way if you are travelling along with your family as it takes complete care of your privacy.
Safety : It is very important to choose a good rental service provider and to make sure it is under good condition.
Tempo traveller on rent Pros and cons
Safety Tips for Renting and Driving a Tempo Traveller
CHOOSE A EMINENT RENTAL COMPANY. Choose a company which has good reviews by customers. check our revies here.
BE PREPARED FOR CONTINGENCY. Always be mentally prepared for and emergency situation as vehicle travelling on road have lot of uncertainity about everything.
DON'T DRIVE INTOXICATED. Never drive when you are drunk or intoxicated as it can be life threatening for you as well as for the passengers travelling along.
CHECK YOUR SPEEDOMETER. Always follow your speed limits and follow all traffic rules to prevent yourself from being held by cops.
OVERSEE YOUR VEHICLE. Check your vehicle if all the features (along with the vehicle itself) are in working condition
As you wrap up this blog, we hope you're feeling inspired to embark on an unforgettable adventure through India's hidden gems with a tempo traveller rental. Remember to prioritize reliability by checking client reviews, fleet size, vehicle condition, insurance coverage, driver experience, and customer service when choosing a rental company.
Now, it's time to turn your travel dreams into reality. If you're planning to explore the wonders of India from Noida, look no further than Mandal Tour and Travels. We are a trusted and reputable tempo traveller rental company that offers top-notch services to ensure your journey is safe, comfortable, and memorable.
Whether you're traveling with family or friends, our fleet of well-maintained tempo travellers in various seating capacities will cater to your specific needs. From 9-seaters to 26-seaters, our vehicles are equipped with amenities like charging ports, air conditioning, and even TVs in some models. Rest assured, our experienced drivers will navigate the roads while prioritizing your safety.
Don't miss out on the convenience, flexibility, and peace of mind that a tempo traveller rental provides. To book your tempo traveller with Mandal Tour and Travels in Noida, visit our website or give us a call at [contact number]. Our friendly and knowledgeable team will assist you in planning your itinerary, answering your queries, and ensuring a smooth booking process.
Get ready to embark on an amazing journey, create lifelong memories, and immerse yourself in the beauty of India's hidden treasures. Book your tempo traveller in Noida today and let Mandal Tour and Travels be your trusted travel companion. Happy travels!
Best Tempo traveller
Get ready for your next adventure tour with Mandal Tour & Travels, the leading provider of Luxury tempo traveller in Noida. Our extensive fleet of tempo travellers offers a comfortable and convenient mode of transportation for group tours and events. With a focus on customer satisfaction, we provide top-notch tempo traveller on rent services and amenities to ensure a hassle-free travel experience.